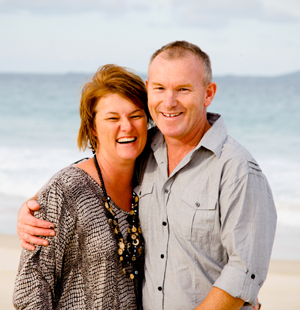 Our Story
Who is Ian?
When life throws up challenges – boys go camping!
Our story begins 10 years, while Ian was enjoying a high flying career in sales and marketing and relaxed with getaway holidays across the globe and the country. As a fit, healthy and active 43 year old "father of 2 boys", a stroke changed his life forever. He returned to his engineering background, and as part of his recovery, built camper trailers for his family and others to enjoy. Camping allowed Ian to get away from the stresses and stains of modern life but even when relaxing his constant drive for perfection resulted with a camper product that is quality and affordable. He planned on making and selling a few campers then heading off around the country for a year long adventure.
Our Story took a sweet turn as Peree entered the scene, with three kids in tow. Plans of year long escapes went out the window as love blossomed in the Hunter Valley. Peree worked in corporate events and hospitality and had only been camping once in her life, much to Ian's horror. Her passion for food, friends and entertaining brought a new aspect to the camping Ian and his boys had enjoyed.
The families merged, a wedding ensued and the Built to Last family Camper trailers were born!
Partnerships are all about compromise and each had their own must haves for the final products:
What began with one camper trailer product has expanded to include a variety of canvas products including our own canvas ute canopy design, our latest products; caravan annexes, our trailers "and canopies and canvas products
Ian's Camper requirements:
The ability to set up in 30 minutes and open up the esky
built to travel all terrains
high quality painted finish
affordable for families
include all the necessities without a 1000 options
create a product that's basic enough to discuss on the phone after you have lost some of your comprehension skills following a stroke.
Peree's Campers requirements:
A comfortable mattress that won't deflate overnight
An area to sit and enjoy a relaxing glass of wine regardless of the weather
A kitchen that includes a "second drawer" for all those camping necessities and has room to store all the ingredients to easily whip up a paella
A camper trailer that she could pack up herself if and only if an emergency required it!
Our trailers are made on site at our home in Branxton, the Hunter Valley  NSW. Now that the Newcastle to New England bypass is complete, Branxton is only 30 minutes drive from Newcastle.
Contact Ian's Campers to discuss how we can meet all your camper requirements.